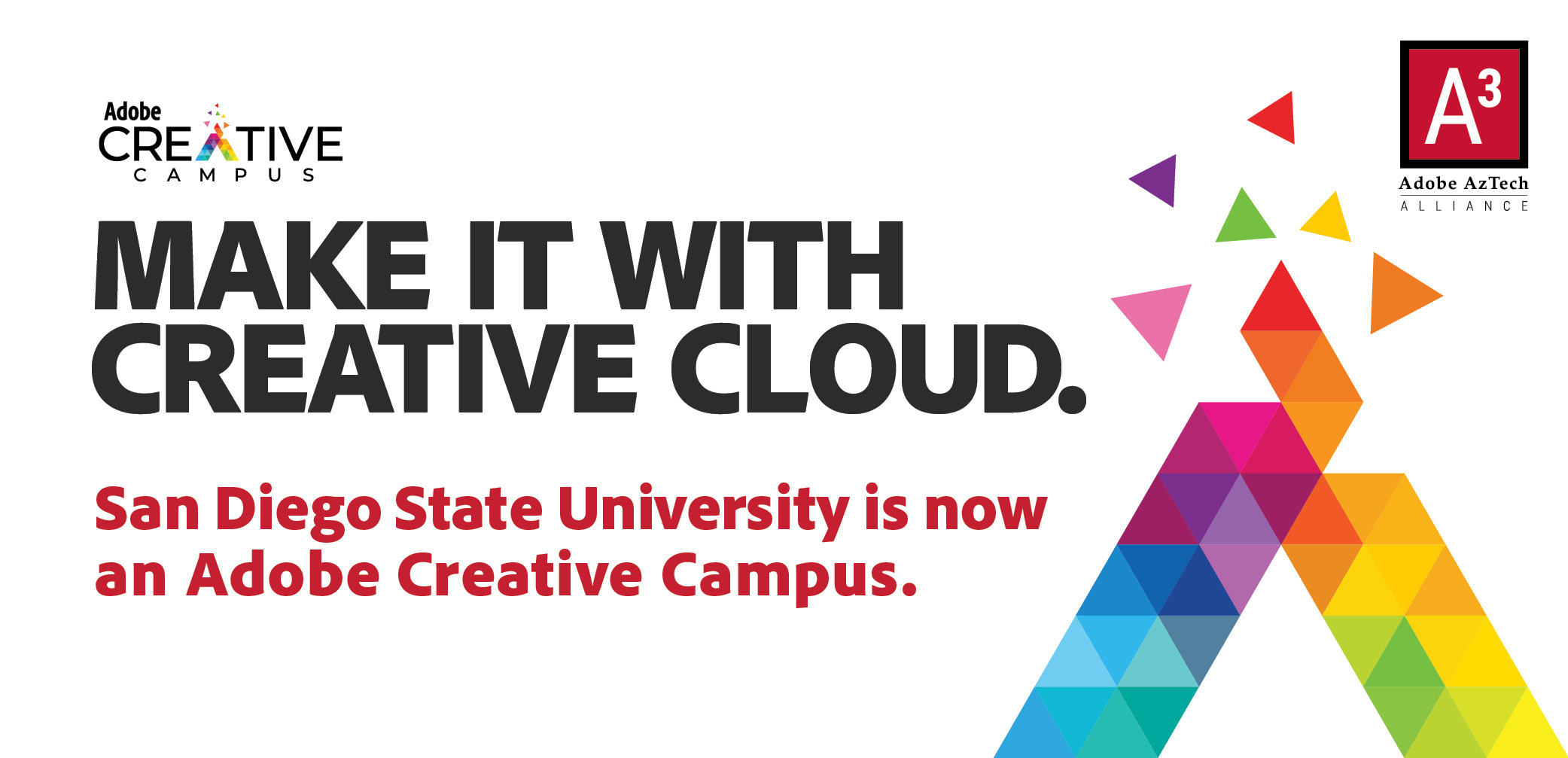 How to Download Adobe Creative Cloud Pro
Faculty and Staff have access to the Adobe Creative Cloud through their SDSUid.
Current SDSU students have access to the Adobe Creative Cloud through their SDSUid.
Adobe AzTech Alliance (A3) Initiative
The Adobe AzTech Alliance (A3) initiative promotes the use of Creative Cloud Pro Edition for Education among SDSU students, faculty, and staff. Adobe Creative Cloud is a collection of 20+ desktop and mobile applications and services for photography, design, video, web, user experience, and now includes Adobe Stock. Through the use of the Creative Cloud, A3 teaches creative digital communication and literacy skills to help students gain an edge in the highly competitive modern workplace. For more information and for updates about this initiative, please go to the Transform IT Project Activities page.
Faculty Pilot Program
In Fall 2021, 15 faculty from the schools of Journalism and Media Studies and Art and Design participated in a pilot program to implement at least one Creative Cloud tool in their coursework. The purpose of this pilot was to increase Creative Cloud application adoption and champion digital literacy by introducing new applications to students in the classroom. The Spring 2022 cohort included faculty members across all colleges and disciplines.
Adobe Student Ambassadors
Adobe Student Ambassadors raise awareness of the Adobe Creative Cloud Pro applications through events and social media content creation. Watch this video to learn about the amazing work done by Adobe Student Ambassador, Michelle Cai, who recently graduated from the Fowler College of Business.
2022-23 SDSU Adobe Student Ambassadors
Summer McGuckin
Ryan Lieng
Rani Reambonanza
Anna Sophia Williams
Ronan Borja
Bryant Abalos
Sophia Pinto
Iann Nguyen
John Karczewski
Sabrina Liberto
Athziry Gomez
Hannah Surreda
Nikko Cordero
Jean Marie Ganoy
Megan Burak
Julia Wunderlich
Krystal Macedo
Sophia Cooper
Joyce Malixi
About Adobe Creative Campus
As an Adobe Creative Campus, SDSU is part of a select group of colleges and universities that are driving the future of digital literacy within the global higher education community. In addition to making industry-leading Adobe Creative Cloud Pro applications and services available to students, SDSU collaborates with other Adobe Creative Campuses to share ideas and innovations that expand digital literacy and help ensure student success.
Adobe Support
For basic training, enhanced tutorials, and user guides please go to the Adobe Creative Cloud Learn and Support center.
Adobe Faculty Resources
The Adobe Education Exchange is the free learning platform and community, with workshops, classes, and resources, all designed by educators for educators, to ignite creativity in the classroom.
In the Adobe Creative Educator Program, you will receive curated professional development materials, information about virtual and in-person events, and the opportunity to connect with like-minded educators from around the world. To recognize your professional development you'll earn badges for completing each level of the program.
SDSU Help and Support
Students
To get help with downloading or installing your Creative Cloud Pro License please contact the Online Computer Hub Help Desk.
Faculty and Staff
Please submit a ServiceNow ticket via the Service Portal for assistance with downloading or installing your Creative Cloud Pro License.
Adobe MAX
Adobe MAX — The Creativity Conference will be hybrid for the first time from October 16–20, 2022. Get inspired, learn new skills, and connect with other creatives during three days of sessions and labs, keynotes, Sneaks, and more. The MAX preconference for in-depth training will be held in person only October 16–17. For more information, visit the Adobe MAX FAQ page.