About Us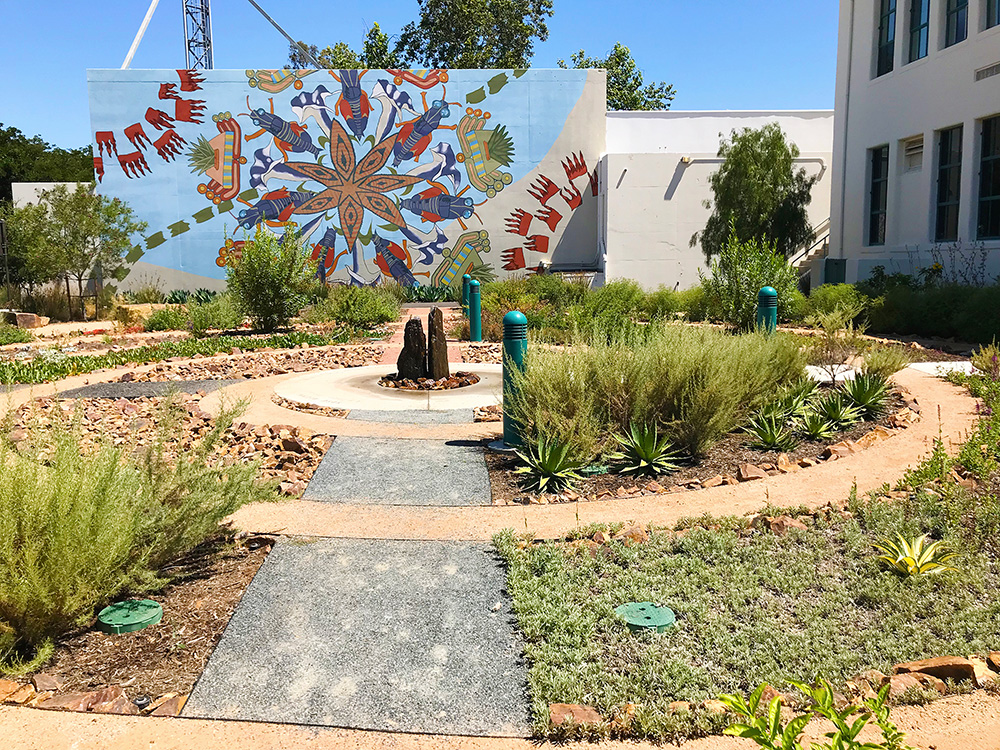 The concept of a garden was introduced in 2003 and was to be reminiscent of the elaborate gardens that the Aztecs enjoyed in Tenochtitlán, the capital of the Aztec Empire (1325c – 1521). Their gardens housed flora and fauna from throughout the region that encompasses rich tropical valleys, arid deserts, and cool mountain climates, a feat that was not feasible in San Diego. The garden was reconceived by the Aztec Culture and Education Committee in 2018 as a place that embodies the symbols and plants of life and of healing – physically, mentally, and emotionally – and that honors our Native American and Mesoamerican Indigenous and California Native American communities' knowledge of holistic health through the reintegration of humans with nature.
The garden was designed collaboratively with local Kumeyaay, Nahua, and Mixtec community members who also produced plant listings for each of the culture groups. Although each of these groups have communities in various micro-climates, the plants at SDSU are ones that can thrive in the micro-climate of the mesa.
The majority of the plants are annuals and will have a seasonal growth period and then go to seed, die down, and return as new plants while the trees and shrubs will grow larger over time and create a space reflective of the natural environment. The garden will thus be in constant change, reflective of the life cycles in nature. The grand opening of the garden was originally scheduled for March of 2020 and was canceled in response to the closing of the University as we responded to the COVID-19 pandemic. The return to campus will allow for a celebration of the garden in 2021. The garden belongs to all of us and offers spaces for outdoor classrooms or meetings as well as opportunities for simply enjoying a quiet moment.
What is the Mission and Vision of the Healing Garden?
Respect and honor via educational programs and events the native and indigenous people of Mesoamerica and the San Diego Region.
This garden represents concepts from the Kumeyaay, Mixtec (Tu'un Savi) and Nahua cultures that thrive in the mesa environment of San Diego.
Be a place of learning and healing, where people from all communities can come and have a better understanding of the usage of plants and how they were used by our ancestors.
The design and plants used in the garden are a collaborative project of Kumeyaay, Mixtec and Nahua members living in San Diego.


Information available about the plants and other cultural resources
Find us on the interactive map and more contact information
Learn more about the garden history and how it came to be