Ask a Researcher
Mechanical engineering professor Zahra Nili Ahmadabadi talks about where her artificial intelligence research fits into the buzz.
By Melinda Sevilla
This story was published in the Summer 2023 Issue of SDSU Magazine.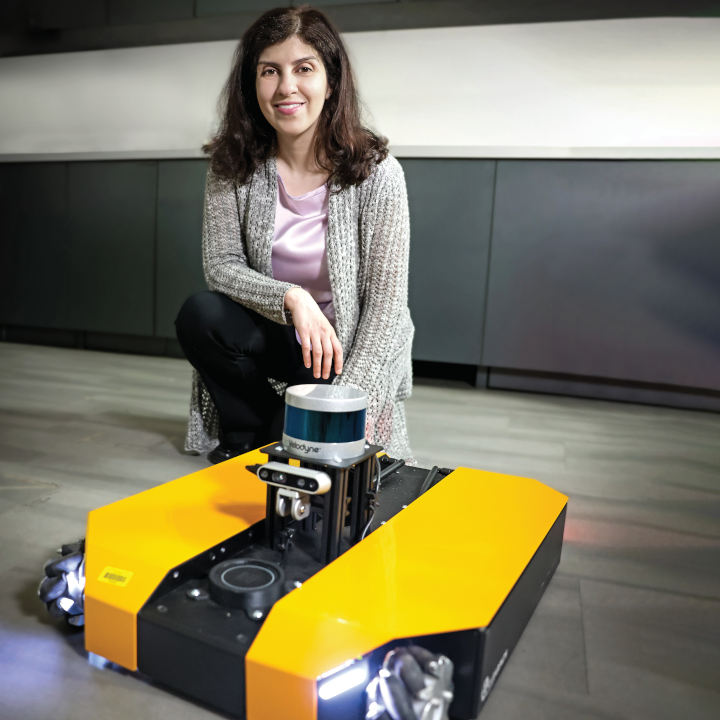 From realistic-looking images of Pope Francis in a white puffer jacket to simulated humanlike conversations, artificial intelligence has made a large appearance this year. Mechanical engineering professor Zahra Nili Ahmadabadi talks about where her research fits into the buzz, and what lies ahead in her ever-changing field. Check out the best of the best!
Q: AI involves replicating human intellectual processes like speech recognition and image processing through machines. What are you investigating?
A: My lab works on developing high-performing auditory systems for robots to understand dynamic environments, like in search and rescue, and tracking different marine species and vehicles under water.
What projects are you working on, and what do you hope to uncover?
We're working on projects related to auditory perception technologies in different environments. Our research aims to use the physics of sound, adaptive control approaches, and machine learning to enable sound source detection, localization and classification in highly complex real-life environments.
You have more than a dozen undergraduate and graduate students supporting you in your Dynamic Systems and Intelligent Machines Lab. How does DSIM prepare them for postgraduate work?
New industries that produce different kinds of robots and self-driving cars are emerging rapidly. DSIM lab students learn fundamental knowledge in the areas of robot dynamics and machine learning, which makes them highly desirable to these companies upon graduation.
What are some breakthroughs in your research?
In research supported by the Air Force Research Laboratory, we discovered that combining physics of sound propagation with machine learning techniques is very effective in significantly increasing the accuracy of robots' auditory perception process.
What should we expect to see in the future with the emergence of new AI platforms such as ChatGPT?
We will perhaps see more advances in natural language processing, leading to more sophisticated chatbots and virtual assistants that can predict users' needs and preferences and generate more tailored responses.
How will AI technology affect the future of work and education?
While earlier digital technologies automated routine tasks, the AI with prediction capabilities will automate non-routine tasks. This will cause dramatic changes in job functions. For instance, health care professionals can use the AI models to improve diagnosis and save their time to focus on treatment options.
Best of the Best
Over the last academic year, six faculty members in four colleges at SDSU have earned National Science Foundation Early Career Development Awards. As the foundation's most prestigious honor, the award provides $500,000 to $1 million to each recipient for advancing research and undergraduate research opportunities with a community-engagement component.

Through these five-year grants, each faculty member is further raising SDSU's national profile as it advances its goal of being an R1 research institution.
The awardees include:
Nicholas Johnson (Teacher Education)
Amneet Pal Bhalla (Mechanical Engineering)
Duy Nguyen (Electrical Engineering)
Hassan Davani(Water Resources Engineering)
Stephanie Ries-Comou (Speech Language & Hearing Sciences)
Udak George (Math and Statistics)