Aztec Electric Racing
After nine long months of manufacturing and design iterations, this AER-23 electric race car is track ready. We break down the details.
By Melinda Sevilla
This story was published in the Summer 2023 Issue of SDSU Magazine.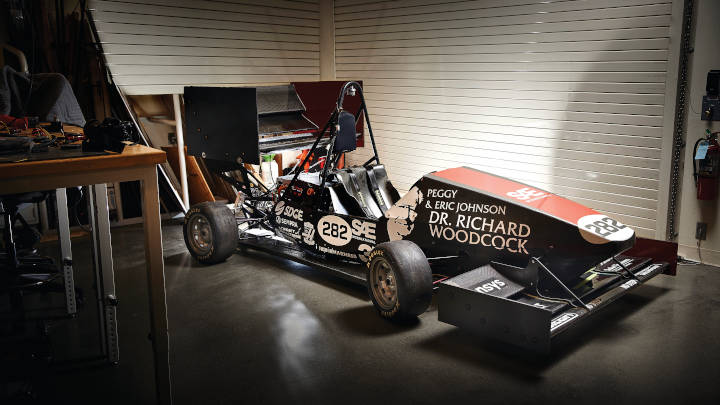 After nine long months of manufacturing and design iterations, this AER-23 electric race car is track ready. Aztec Electric Racing, a student-led team at SDSU, will pit it against more than 70 universities at the Formula SAE Electric national competition (June 14–17) in Michigan. AER, which receives significant philanthropic support from Richard Woodcock, will face big-name programs that have dominated the top 10 slots, including McGill University, MIT and Carnegie Mellon.

While the national stage provides some healthy competition, it's just a starting point for these AER teammates. These students, along with others in the College of Engineering, are graduating in prime positions to land jobs in high-demand fields. In fact, several former AER members now work for companies such as Tesla, Rivian and NASA, among others. "Our alumni have directly cited their involvement in Aztec Electric Racing during their interviews as sources for their engineering experience, problem solving and team-working abilities," says Andrew da Cunha, SDSU mechanical engineering graduating senior and president of AER. Not a bad endorsement. —Melinda Sevilla

Did you know?
The AER-23's max power is 80KW, and it weighs 520 pounds. For comparison, its power-to-weight ratio is almost four times that of a Tesla, with a 170KW max power and 3,600-pound weight.

Motor
Some Tesla models can reach 60 mph in 2.1 seconds. The AER-23 needs a fraction more: 2.3 seconds.

Seat
The custom carbon seat is a bit of a luxury. It's also the strongest material on the market.

Wheels
The wheels measure in at 10 inches. For comparison, standard road cars have wheels that are between 14 and 19 inches in diameter.

Suspension
The pull-rod suspension lowers the chassis and the center of gravity to improve efficiency in cornering, body roll and high-speed stability.

Steering
One goal for this car? High-speed turning. They expect to tackle turns at 30 miles an hour.

Rear Wing
The full carbon aero package, which boasts a strength-to-weight ratio that's 10 times higher than steel, includes the front carbon splitter, front carbon vents, rear carbon diffuser with winglets and rear carbon rear wing.