An SDSU Global Learning Course is an academic course that provides students with opportunities to achieve SDSU Global Learning Outcomes and participate in a global learning experience (e.g., international events on campus, international research, international internship, studying abroad, a COIL project, or an international project in the San Diego local community or our transborder region) while linking these experiences to course content. Global Learning courses enhance education by providing multiple perspectives, and engaging students in activities that expand the scope of the course beyond physical and cultural borders. Ongoing critical reflections are essential to the success of global learning.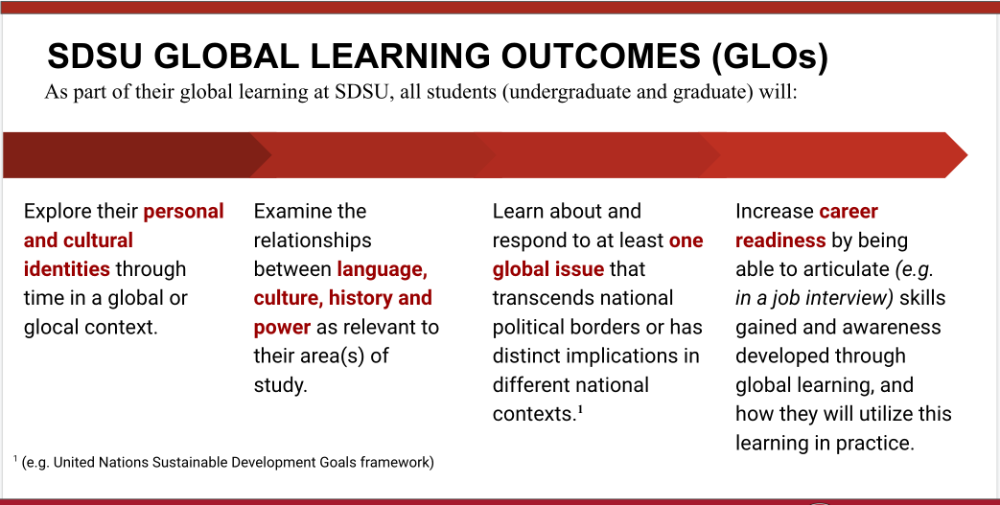 SDSU Global Learning Outcomes (GLOs)
The GLOs framework will scaffold student learning throughout the entire SDSU experience, so that students graduate as more globally conscious citizens who continue to engage and learn.
As a teaching and learning community, SDSU strives to offer our students global education opportunities that support student achievement of the GLOs. However, we will not expect students to achieve everything in this framework through participating in one experience, course, or program alone. Reasonably, all SDSU global learning opportunities are expected to align with at least one of the GLOs, rather than being expected to focus on all four areas of the GLOs framework.
Cultural Identities
Explore their personal and cultural identities through time in a global or glocal context.
Language, Culture, History & Power
Examine the relationships between language, culture, history and power as relevant to their area(s) of study.
Global Issues
Learn about and respond to at least one global issue that transcends national political borders or has distinct implications in different national contexts.
Career Readiness
Increase career readiness by being able to articulate (e.g. in a job interview) skills gained and awareness developed through global learning, and how they will utilize this learning in practice.
An institution-wide framework that connects to SDSU's recently approved ILOs and complements SDSU's established Degree Learning Outcomes and General Education
Area Goals as part of SDSU's Global Strategy
A set of outcomes aligning programming across all disciplines with President de la Torre's vision of educating "global citizens, compassionate leaders, ethical innovators"
A roadmap to guide students' global learning throughout their entire SDSU experience, toward graduating as more globally conscious citizens, including being able to articulate their global learning in professional as well as academic contexts
Acknowledgement: The proposed GLOs were established in Fall 2020 by a GLOs working group, composed of 19 SDSU faculty representing the various colleges and campuses of San Diego State University, in addition to 4 staff members, and the International Affairs leadership team. The current version has been approved by the International Affairs Council in January 2021.
Senate Approval (May 2021): The Senate approved the new Global Learning Course designation at the end of the 2020-2021 academic year.
SDSU Global Learning Course
A Global Learning Course (GLC) designation may be approved for an academic course in which all offered sections require student participation in organized learning activities that
evidence at least one of the SDSU Global Learning Outcomes as integral to the academic focus and objectives of the course,
include a minimum of 15 hours engaged in global learning experiences that address one of the Global Learning Outcomes, and
at least 15% of the course grade (and ideally 20% or more) is directly related to the global learning component.
Global Learning Course (GLC) Designation Guidelines
1. Syllabus Language: Provide draft syllabus language that explains how at least one of the SDSU Global Learning Outcomes (GLOs) (https://www.sdsu.edu/internationalaffairs/glos) is integral to and supports the academic focus and objectives of the course. This explanation may be presented within the general overview of the course, as a separate description of the global learning component of the course, and/or within the Course Learning Outcomes.
2. Mechanism(s) of Global Learning: Describe the mechanism(s) used to introduce the Global Learning component to students. This may be done through various methods including but not limited to: facilitated class discussions, guided readings, guest speakers or panelists (in-person or virtual), experiential class periods, field trips, structured out-of-class engagements such as volunteering as language tutors, or written assignments focusing on critical and cultural reflections. Utilize the Faculty Resources through International Affairs (https://www.sdsu.edu/internationalaffairs/faculty-resources) as a resource.
3. Logistics of Global Learning: Address and describe each of the following logistical components for global learning in the space below, breaking out your responses by letters:
location or cultural context where the global learning experience will be completed (e.g., on SDSU campus, in the San Diego local community, across our broader transborder region, location abroad, or virtually);
expected global or intercultural learning skills and goals that speak to and connect with at least one of the Global Learning Outcomes;
course materials and readings that reflect both local and global perspectives;
course activities, assignments, assessments that will meet the learning goals;
a minimum of 15 hours engaged in global learning experiences that address one of the Global Learning Outcomes; and
at least 15% of the course grade (and ideally 20% or more) is directly related to the global learning component.
4. Reflection Assignments: Describe the structured student reflection assignments of the course, including mechanisms and opportunities for ongoing student reflection on the integration of the GL component with course content (e.g., class discussions, journals, papers, presentations).
Creation of a unified framework to guide campus internationalization
Alignment of global learning with college, department, and course SLOs
Development of preferred criteria for program review, exchange agreements, and business partnerships
Development of preferred criteria to assess student experiences on inbound and outbound exchanges
Assessment of program quality
Assessment of equity across global learning opportunities
Communication to the campus community about how SDSU defines "global learning"
Communication to students about the importance of global learning
Establishment of language that helps students set goals for their global learning and ultimately articulate what they learn
Longitudinal assessment of global learning
Development of a more bilingual and multilingual environment at SDSU
The resources below result from collaborations with 19 SDSU faculty members who have led study-abroad programs. All participated in and contributed to a three-part seminar on internationalizing teaching and learning with the SDSU GLOs in spring 2021. ​
Sample GLOs Rubric
This sample rubric offers one way of operationalizing the Global Learning Outcomes across four competence levels. Faculty members are strongly encouraged to customize the sample rubric for their own courses.
Sample GLOs-integrated syllabus
As a community of practice, SDSU faculty members across colleges and one provider have agreed to share their GLOs-integrated syllabi. Each sample syllabus contains a cover sheet that overviews GLO-related course learning outcome(s), assessment method, and reflections if applicable. Also, numerous sample syllabi speak to two or more GLOs.