From the President
Adela de la Torre reflects on her first five years as president at SDSU and the role of trust in the university's achievements, including the development of SDSU Mission Valley, increased research funding, record student applications and philanthropic support.
This story was published in the Fall 2023 Issue of SDSU Magazine.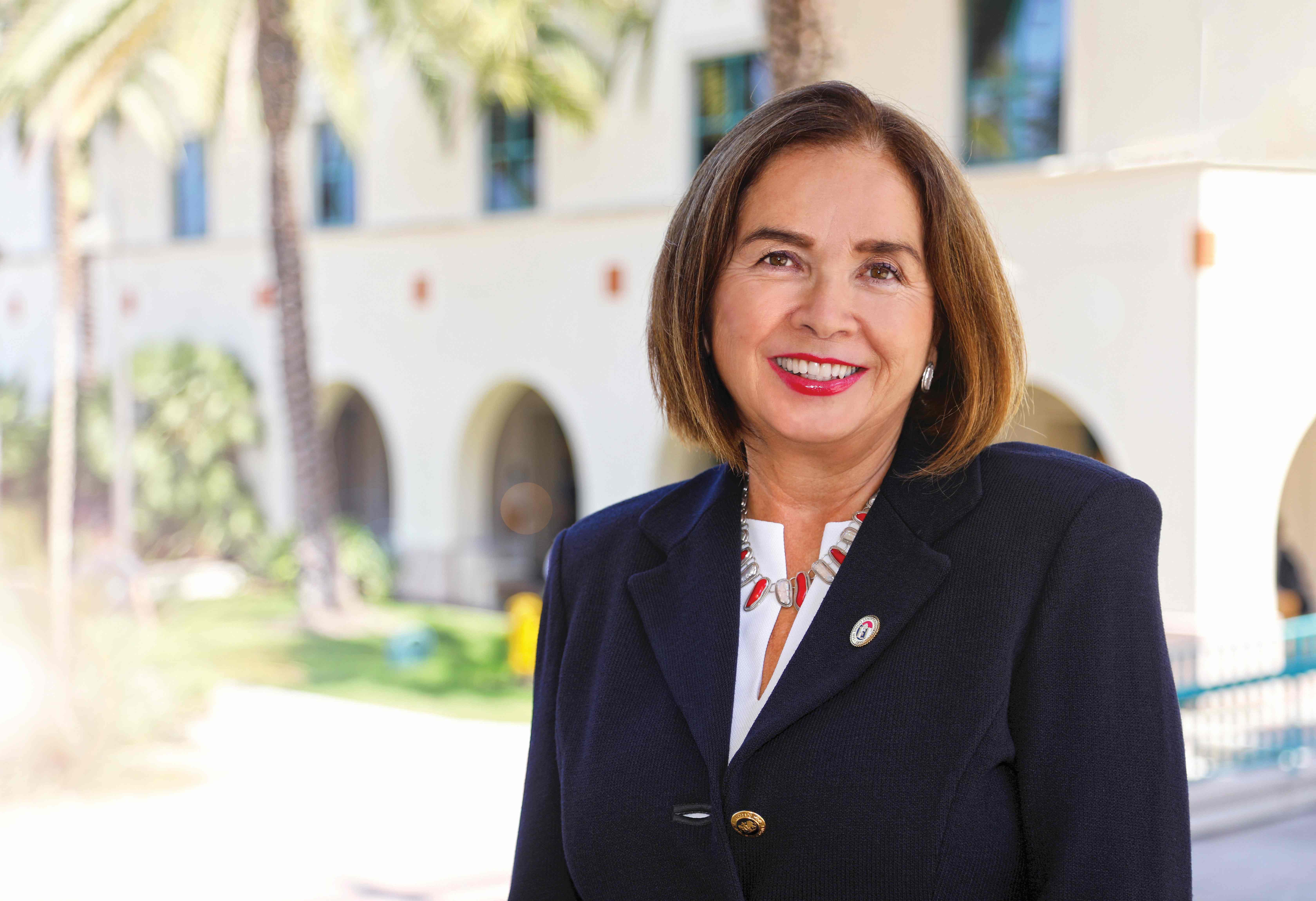 As I begin my sixth year as president of San Diego State University, trust is the word I would choose above all others to characterize the last several years at SDSU.

Just months after I arrived in 2018, the people of San Diego showed their trust in who we are and what we do for our community with the passage of Measure G. This made SDSU the official steward of the land that would become SDSU Mission Valley. In the time since, we've completed the beautiful new Snapdragon Stadium and made important progress on developing the site's river park, much-needed housing and academic innovation district — all on time and within budget, without relying on tuition, student fees or state dollars.

We have seen tremendous trust from the public and private sectors in our emergence as an academic and research powerhouse. Businesses and public agencies, believing in the quality of our faculty and students, have increased their annual funding of research partnerships with SDSU to $192 million — a rise of 40% in the last five years.

Students have shown their trust by making us one of the top 10 most-applied-to universities in the nation. We received a record-breaking 110,782 applications for this academic year — a 7% increase since I joined SDSU in 2018 — and our enrollment eclipsed 37,000 for the first time, with a new record of nearly 8,400 of those students living on campus.

Trust has come from the state of California, which committed $80 million to the Sciences and Engineering Laboratories at SDSU Imperial Valley, believing that SDSU is the right educational partner to unlock the opportunity of Lithium Valley for the people of that community.

And trust has come from our generous supporters, whose belief in our purpose and vision led to $137 million in gifts last year, bringing our five-year total to $650 million. This has allowed us to open new centers, expand our faculty and facilities and, for the first time ever, distribute more than $360 million in financial aid to students last year.

Most importantly to me, this pervasive, wide-ranging trust in SDSU is making a significant difference for our students. In August — using exciting new criteria that more strongly reflect student success — Forbes ranked SDSU the No. 16 public university in the nation.

I am so grateful for your trust in SDSU and proud of the progress we have made together. Go Aztecs!