The Gift of Sharing
Impact investor Jessica Sarowitz has a "soft spot," she says, for the foster care community, and she wanted to help. A $2.5 million gift to endow the SDSU Guardian Scholars Center was her way of doing that
This story was published in the Fall 2023 Issue of SDSU Magazine.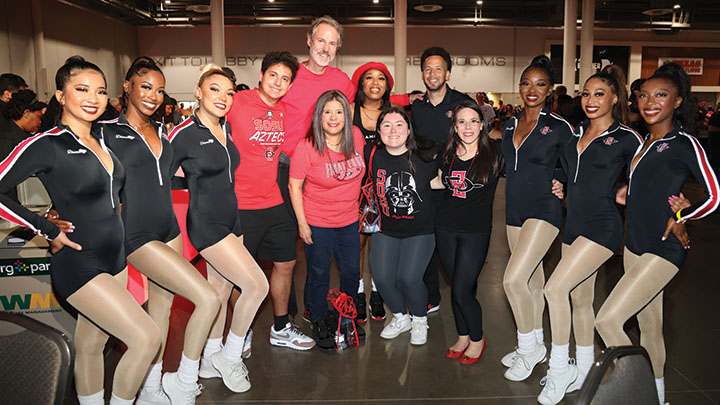 Despite growing up with no siblings in Chicago's North Side, Jessica Sarowitz recalls being a handful for her Honduran immigrant parents. "I was a rascal," she says. "I liked to talk back a little bit and always had a lot of questions."
Sharing was also a challenge. "As an only child, I think I never really learned how to share, but over the course of my life, I've experienced different models of sharing and how beautiful that can be," Sarowitz says.
Having now become a social impact investor as CEO and managing partner of 4S Bay Partners, sharing is what Sarowitz does. She volunteers on the San Diego State University Campanile Foundation board of directors, recently announcing a $2.5 million gift to endow the Jessica P. Sarowitz Guardian Scholars Center.
Guardian Scholars is a program in SDSU's Student Affairs and Campus Diversity Division serving students who are current or former foster youth, wards of the court, under legal guardianship or unaccompanied homeless youths. Overseen by the Office of Educational Opportunity Programs and Ethnic Affairs, it supports students transitioning to, through and beyond SDSU.
The program offers students scholarships, help with housing and services such as tutoring, mentoring and both personal and academic counseling. Established in 2007, Guardian Scholars currently supports 150 SDSU students, the largest number to date.
Mary Taylor ('98), SDSU associate chief diversity office for Outreach Success, says Sarowitz's Guardian Scholars donation brings a new level of support to fuel the program's growth.
"Through her generous gift, Jessica Sarowitz is presenting our students with significant opportunities for achievement," Taylor says. "We are grateful for the confidence she is showing in our program and our students' abilities to succeed."
Sarowitz is investing in SDSU because, so far, she likes what she sees. "I love a university that is making a difference in students' lives while also providing what I consider to be excellent education that will do well in the marketplace," she says.
Sarowitz points to the various subcommunities that make up SDSU's student body and how the university creates spaces to support their success like the Black Resource Center, Latinx Resource Center, Asian Pacific Islander Desi American Center, Native Resource Center and Pride Center. "There are certain sorts of cultural, life heritage histories within these communities that require more customization in the support that they need, and this speaks to that," she says. "I wanted to do that for the Guardian Scholars community of students. They deserve it."
Marie Brañes ('21, '22) is a Guardian Scholars success story. She was supported by the program while earning two degrees and is now an assistant program coordinator with Guardian Scholars at the Office of Educational Opportunity Programs, Outreach and Success.
Brañes came to SDSU having spent much of her childhood in the foster care system, frequently changing residences and having her studies disrupted. Like many who share similar backgrounds of broken families, little money and even less support, she had never believed higher education, let alone two degrees, was a real possibility.
How critical was the program for Brañes? "I would not be who I am without the Guardian Scholars," she says. "Although there are other supports within San Diego, the Guardian Scholars Program was really my lifeline."
The application process for Guardian Scholars is fiercely competitive. In fact, Brañes says, students granted admission only half-jokingly refer to their program acceptance as receiving "the golden ticket."
Brañes is grateful for the added support Sarowitz's endowment will provide. "Donors like her taking the time to learn about Guardian Scholars is why we're as successful as we are," she says.
Sarowitz gained some of her insight from a friend who works in the foster care system. She learned even more while executive producing a film called Foster Boy, which involves a legal case.
She is aware that foster care students are a vulnerable community often subject to low outcomes in terms of graduation rates. It's something she hopes to help change.
""I have a soft spot for this community," she says, "and I thought, What better way than to do something at SDSU?"
Ambitious and goal-oriented, Sarowitz vows to monitor the effects, including metrics like retention rate, of her endowment on the Guardian Scholars Program's progress. "Am I going to keep a good eye on the trajectory of this? Hell yeah! If things need to be retooled," she says, "I'm going to be a big advocate for that because we have got do better by this group.
"I just need them to get to the finish line because that's the promise we need to deliver on."