SDSU Foodies
Many well-known foodies call SDSU their alma mater. Take for instance, Ralph Rubio ('78), affectionately known to locals as the Fish Taco King, who founded Rubio's in 1983 in Pacific Beach. Or Laura Ambrose ('89), the owner of Woodstock's Pizza (with one location just six minutes from SDSU), a staple in California's college towns. Here are five more alumni in San Diego who will make you say, "I didn't know they were an Aztec!"
By Michael Klitzing
This story was published in the Fall 2023 Issue of SDSU Magazine.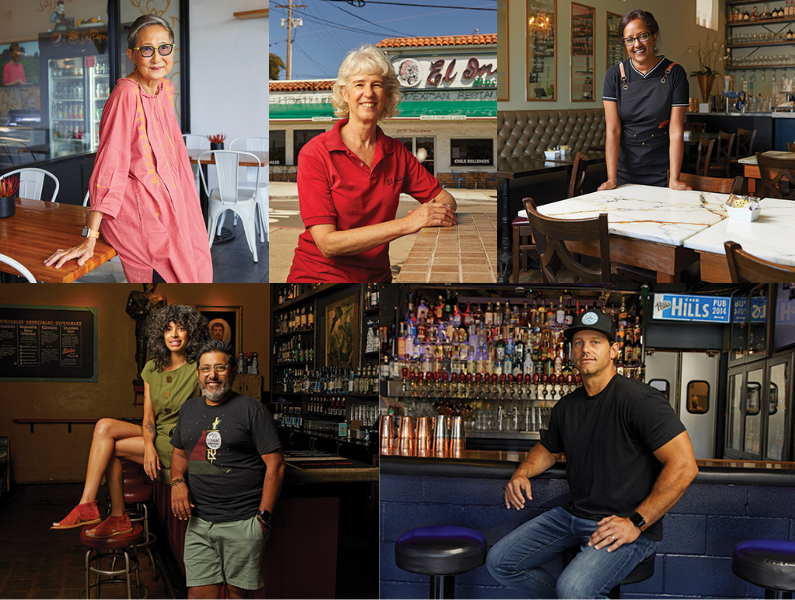 Ponce's Mexican Restaurant
Adams Avenue in Kensington
poncesrestaurant.com
Ponce's Mexican Restaurant typically closes between Christmas and New Year's to allow its staff some well-deserved family time. That's why Ponce Meza Jr. ('00, accounting) starts each year by wading through a series of dejected-sounding voicemails.

"We get so many people who grew up in San Diego coming home for the holidays, and they want to come here, only to find out we're closed," he says.

That's the kind of hold Ponce's has had over the Kensington neighborhood ever since Ponce Meza Sr. opened the location on Adams Avenue in 1969.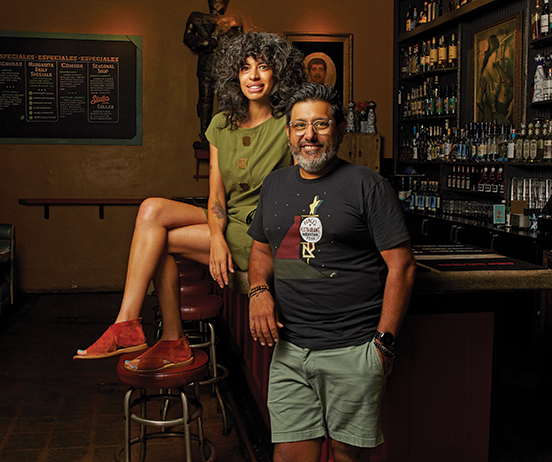 Now owned and operated by Ponce Jr. and his sister Rocio Meza, much has changed since they took the reins from their father in 2000, including a new North County location that's open during that holiday window. But the family feel is much the same.

"It's a generational thing," Rocio says. "You'll have grandparents, children and grandchildren all eating here, and they've all been coming forever."

What gets people in the door is Mexican comfort food in large portions, including the crowd-pleasing chile relleno plate. Many recipes are the same as what Ponce Sr. brought to Kensington 54 years ago: They still use cheddar in the cheese enchiladas, and Uptown might just riot if they didn't.

The influence of the Meza siblings can be found in the full bar — featuring margaritas where one can actually taste the tequila — and in the expanded dining room where a diner feel has given way to a stylish, casual decor.

A proud SDSU alumnus, Ponce Jr. notes that the restaurant has become something of an Aztec hangout in recent years despite its lack of a television. Located just 10 minutes from Viejas Arena, the room often fills up on men's basketball game nights.

"I want to keep this restaurant that my dad started back in 1969 going on forever," Rocio says. "It's a part of us."
Hanna's Gourmet
Adams Avenue in Normal Heights
hannasgourmetsd.com

While enjoying one of Hanna's Gourmet globally inspired takeout dinners, it's important to savor the moment. Because the venerable Normal Heights restaurant is here to take you on a journey — and that means being on the move constantly.

One week it'll be Italian family style, the next Moroccan. Have a taste for Spanish tapas, or the cuisine of China or Japan? Just wait.

"Really, it's because I get bored easily," says Hanna Tesfamichael ('91, food and nutrition). "Changing things keeps me passionate."

She pauses and smiles.

"Because it sure doesn't make business sense."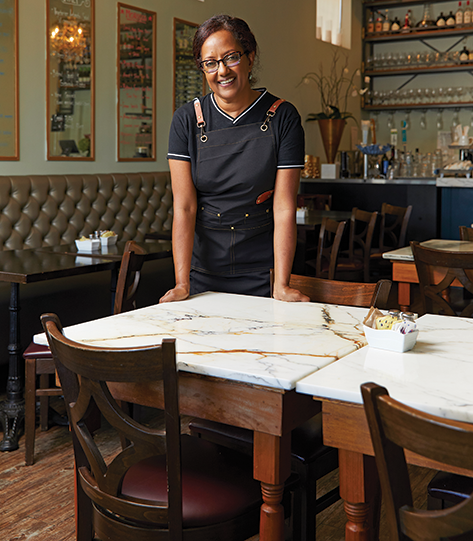 Yet there's no denying Tesfamichael's business acumen. Since opening Hanna's Gourmet as a catering business in 2008, she has navigated an economic downturn and a global pandemic through prudent decision-making. Since the end of the COVID-19 lockdown, she has opened her dining room and full bar to the public only for her popular Sunday brunch, which runs from 8 a.m. to 3 p.m. This is when she serves up her greatest hits, including her take on chilaquiles, an egg dish with all the fixings. Dinner is available only via takeout, pop-up dinners or private events.

The global twist harks back to her childhood in Ethiopia. She was 13 years old when a family friend returned from studying in the U.S. with a Betty Crocker cookbook in tow. Soon, consuming international cookbooks — and learning how to fuse disparate recipes and ingredients — became Tesfamichael's passion and future area of study.

The influence of SDSU's food and nutrition program can be found in the wholesomeness of her entrees, and she always cooks with health in mind.

Tesfamichael was also empowered by professor emerita Audrey Spindler, whose mentorship helped guide her through homesickness and the isolation she felt as the only international student and only Black student in many of her classes.

"She was my backbone," Tesfamichael says.

Years later, Spindler became a Hanna's Gourmet patron — one of the many locals embarking on a delicious global journey.
El Indio Mexican Restaurant
India Street in Mission Hills
elindiosandiego.net

"What is El Indio?" It was the $1,000 answer in the Kid Cuisine category on "Jeopardy!" and host Ken Jennings offered up a doozy: "San Diego's El Indio restaurant claims Ralph Pesqueira created these diminutive items by adapting flautas."

Contestants Ray, Claire and Lloyd stood in silence until the distinctive three beeps signaled time was up.

"That's perhaps the origin of the taquito," Jennings said.

Of all the information gleaned from the Jan. 3 episode of the quiz show, one of the biggest takeaways was that Ray, Claire and Lloyd were most certainly not San Diegans. If so, they would have known the best-selling item of the Mexican restaurant that was established in 1940 and has graced the corner of India and Winder streets in Mission Hills since 1947.

Jennifer Pesqueira ('94, art), El Indio's owner, had no idea the clue was coming. She only found out about the game show shoutout when a family member on the East Coast who happened to be watching called her excitedly on the phone.

"The next day the customers were like, 'Hey we saw you on 'Jeopardy!'" Jennifer says. "It was really cool.

"I loved that no one knew the 'question,'" she adds.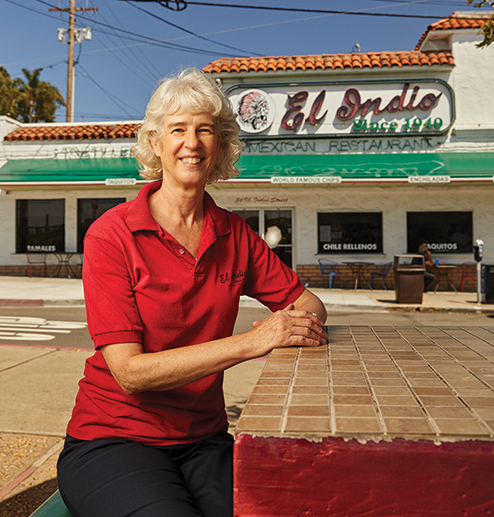 Jennifer is the third generation of Pesqueiras to run El Indio, following in the footsteps of her grandfather, taquito innovator Ralph Pesqueira Sr., and her father, fellow SDSU alumnus Ralph Pesqueira Jr. ('57, business). Ralph Jr., a former California State University trustee, gradually stepped away from the business early in the COVID-19 pandemic.

But El Indio remains El Indio.

Longtime customers will still recognize the friendly feel, brightly colored dining room and hearty staples, including their top-selling taquitos (the choices are beef, chicken and potato).

"My grandfather passed when I was 11, so he never got to see me working here," Jennifer says. "I think sometimes I still feel his presence around me. My dad trained me in all things El Indio for over 30 years, so I think El Indio is in my blood. I know he is proud of me firsthand."
The Hills Pub
La Mesa Boulevard in La Mesa
thehillspub.com

Jason "Rocky" Nichols ('08, hospitality and tourism management) and his cousin Chad Cline own an eclectic portfolio of San Diego–area watering holes stretching from the Gaslamp Quarter to East County. But whichever one you choose to pull up a stool in, you'll find yourself at Grandma's house.

"Think of the stereotypical grandma. When you walk in the house, what's the first thing she's going to do?" says Nichols, who credits his cousin for the concept. "It's going to be like, 'Oh my goodness! It's been so long! What are you up to?'

"It kind of gives you that good feeling."

The original, and literal, grandma's house is The Waterfront Bar & Grill, which opened in Little Italy in 1933. The cousins bought the establishment from Nichols' grandmother Nancy Nichols, who was a fixture at the bar for decades.

As Nichols tells it, he never intended to go into the family business. He attended SDSU with the dream of pursuing a career in the hotel and tribal casino industries.

But a funny thing happened while he was tending bar at the Waterfront to earn a little extra cash. Nichols started applying some of the hospitality concepts he was learning at SDSU. And they began to pay off.

"It was all of these little things like systems and promotions and new hire trainings," Nichols says. "And the sales would go up. Our customers were happier. It was almost like instant gratification to implement something and have it work. I kind of got addicted to it."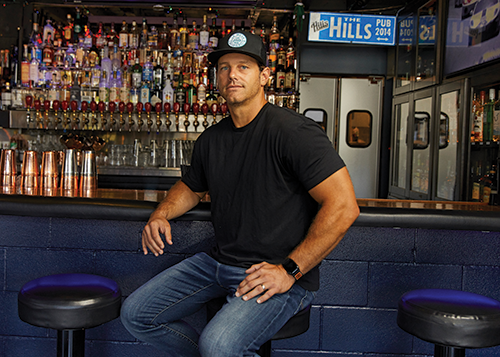 Inspired, Nichols branched out on his own. He and two "knucklehead buddies," as he calls them, managed to scratch together enough money in 2010 to open Eastbound Bar & Grill in Lakeside, a short distance from where the three had played football at El Capitan High School.

"Eastbound was where I got my master's," Nichols says, smiling.

Nichols and Cline then established Werewolf American Pub downtown and The Hills Pub in La Mesa, while buying Club Marina in Point Loma, Sycamore Den in Normal Heights and Aero Club in Middletown.

Nichols credits the lessons he learned at SDSU for keeping him ready to adapt. "SDSU taught me how to learn," he says.

"That's the biggest thing in the restaurant industry. Understanding that you know you don't know everything."
Saffron Thai
India Street in Mission Hills
saffronthai.com
Thai food is so ubiquitous across the U.S. today that it's hard to imagine a time when it was largely unknown.

Yet when Su-Mei Yu ('68, MSW) started dishing out her now famous Thai chicken in Mission Hills in 1985, she had to allay some serious suspicions.

With an intention to educate the public, she practiced patience with people who were doubtful about what she was serving.

"Thai food was still a novelty at that time," she says. "Nobody ate rice. Can you imagine that?"
Fortunately, Yu, who came from Thailand to Kentucky in 1961 at the age of 15 to attend high school, had a knack for winning people over.

What she started with a tiny storefront, a $10,000 bank loan, a custom-made chicken roasting machine and a single employee became Saffron, a mainstay of the San Diego restaurant scene.

It also turned Yu into something of a celebrity as an author of Thai cookbooks and a guest chef on shows such as "Today," "Martha Stewart Living" and "Good Morning America." She even hosted her own show on KPBS, "Savor San Diego."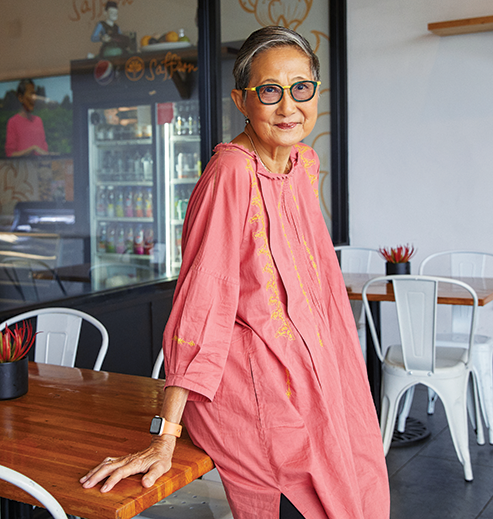 What was the secret to her success?
"I think because I really love cooking, and I was a social worker," says Yu, who worked in the helping profession in the 1970s before spending two years as an assistant professor of maternal child health at SDSU.
Yu finally sold Saffron after 33 years. Now called Saffron Thai, it's still going strong on India Street, and there's another location at the San Diego International Airport. She's still the restaurant's guiding light and works closely with the owners.
"To this day Saffron is very careful about where they source their ingredients, and they care a great deal about your health," Yu says.
Yu now splits her time between Thailand and India, where she is focused on immersing herself in her Buddhist faith. She'll still drop into Saffron Thai when she's back in the U.S.
"I'm so blessed," she says.
Support more Aztec-owned restaurants