Why We Give: Herbert J. Solomon
Solomon, a San Diego–based attorney and philanthropist whose gifts frequently address societal inequities by providing greater opportunities for members of historically marginalized communities, gave in support of SDSU's Black Resource Center.
By Tobin Vaughn
This story was published in the Fall 2023 Issue of SDSU Magazine.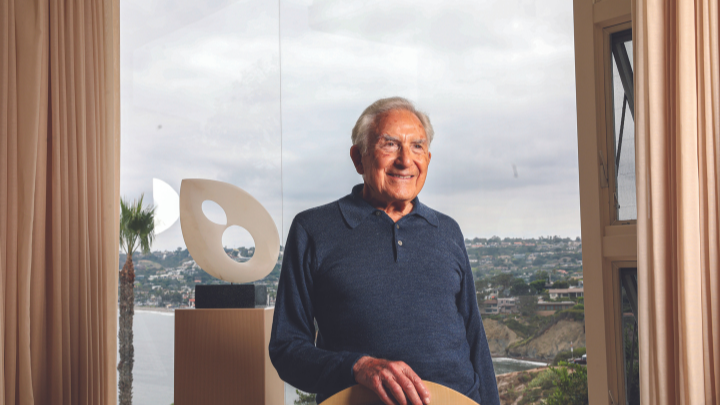 THE GIFT
$1 million to create the Herbert J. Solomon Endowment for the Black Resource Center and Student Success in SDSU's Division of Student Affairs and Campus Diversity.
FOR HERBERT J. SOLOMON, philanthropy is almost instinctive. "It's important to me, for my self-respect, to help others," he says.
In Jewish theology tikkun olam — Hebrew for "repairing the world" — is defined by performing acts of generosity and kindness. The words are more than aspirational for Solomon; the SDSU alumnus lives by them.
Possessing a strong sense of social justice, Solomon strives to help right historical wrongs, including persecution and discrimination against people of color. "And the best way to do that, I feel, is through educational opportunities," he says.
That's why Solomon donated $1 million to create the Herbert J. Solomon Endowment for the Black Resource Center and Student Success. The funding establishes scholarships for students, known as Solomon Scholars, who demonstrate need and are involved with the center.
Beyond scholarships, Solomon's gift will support the greatest needs of the Black Resource Center. Allowable expenses would include funds for new and ongoing programming and activities related to student success; retention and recruitment; student assistant and staff salaries; and speaker fees and hosting.
In addition to providing a space for social and cultural connection for Black students on campus, the Black Resource Center offers students the resources they often need to succeed and thrive at SDSU. It provides academic coaching, professional development seminars and conferences, and different platforms for career opportunities.
It's also a space where self-supporting students may be pointed toward financial help or those facing a crisis may be directed toward assistance. "We have created, in the Black Resource Center, a pipeline to academic success," says Tonika Green, SDSU professor and associate vice president for Campus Community Affairs.
Green describes the scholarships Solomon's endowment provides as "huge for a student who might not otherwise have the personal income, family income or family support" to complete a degree.
"Our students are dealing with many tough issues and a lot of barriers related to access to education. Herbert Solomon's generous gift to support the Black Resource Center will help us lift some of those burdens."
"Herb gave from his heart," Green says. "I thank him for setting an example for this campus and beyond."
Solomon, who has been a donor to SDSU's Jewish studies and political science programs, was instrumental in opening the current Hillel center located in the same block as the Black Resource Center. He hopes his gift will help attract and retain more Black students at SDSU.
Regarding his continuing support of programs at SDSU and elsewhere, Solomon's philosophy is forthright: "Good fortune has been bestowed upon me, and therefore, I want to assist others who are less fortunate than I am."