A Walk in the River Park
In the planning phases for SDSU Mission Valley, open space for the community was paramount to the university — and now the multiuse river park is nearing completion.
By Ryan Brothers
This story was published in the Fall 2023 Issue of SDSU Magazine.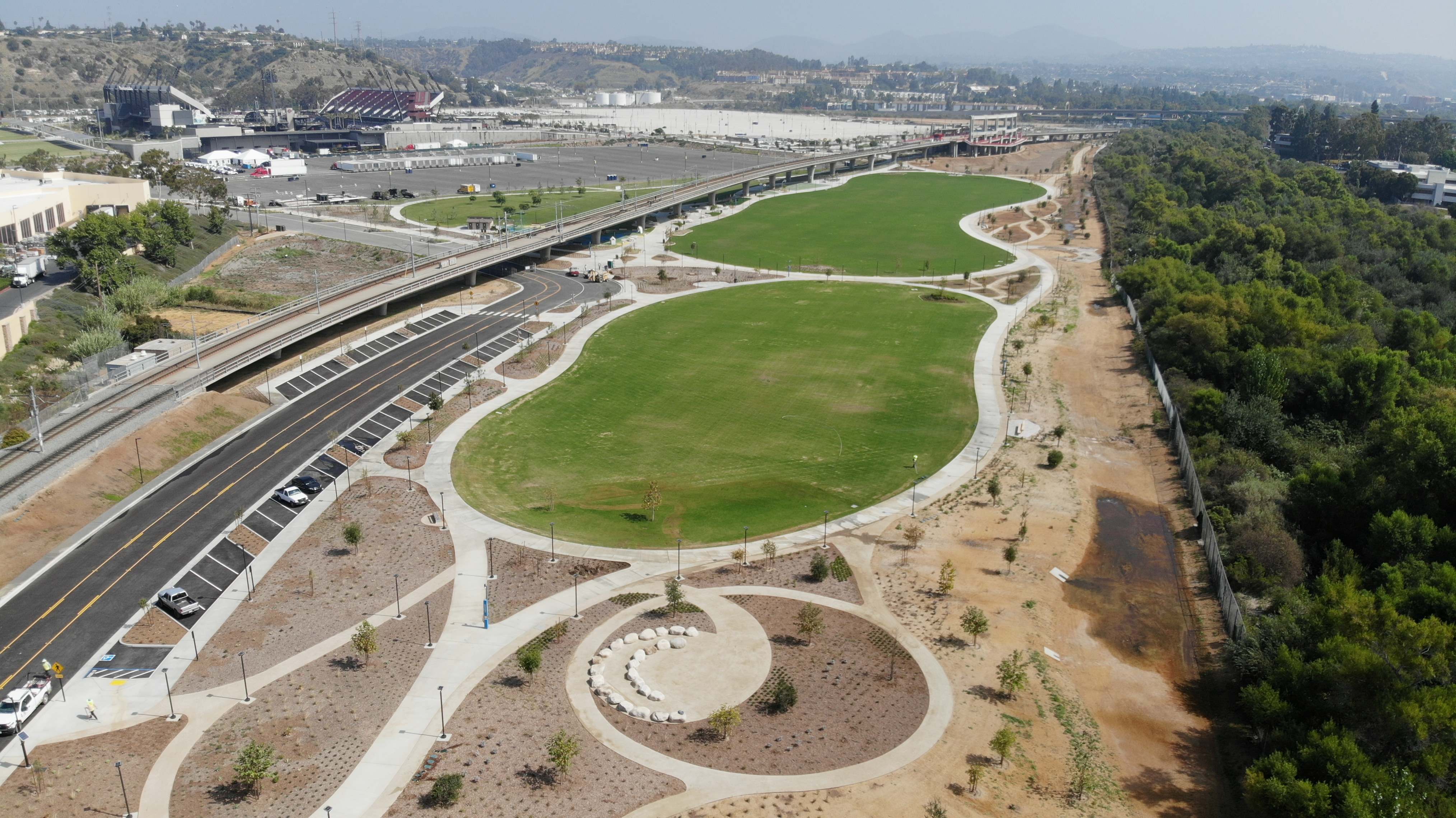 In late August, the Aztec football team beat Ohio in its first game of its second season at Snapdragon Stadium. It's one of many events that has brought the stadium's overall attendance to more than 1,150,000 since opening in September 2022. The next piece of SDSU Mission Valley to open to the public is the river park, a sprawling 34 acres that features native flora, enhancing the riparian environment bordering the San Diego River and partially under the shade of the trolley line.

The guiding philosophy behind the river park was to create a space of natural harmony and community gathering. With an expected completion later this year, it will become a place where generations can convene, where families can strengthen their bonds through shared experiences and where younger generations can learn the joys of play. Here's a closer look at what the river park will have to offer.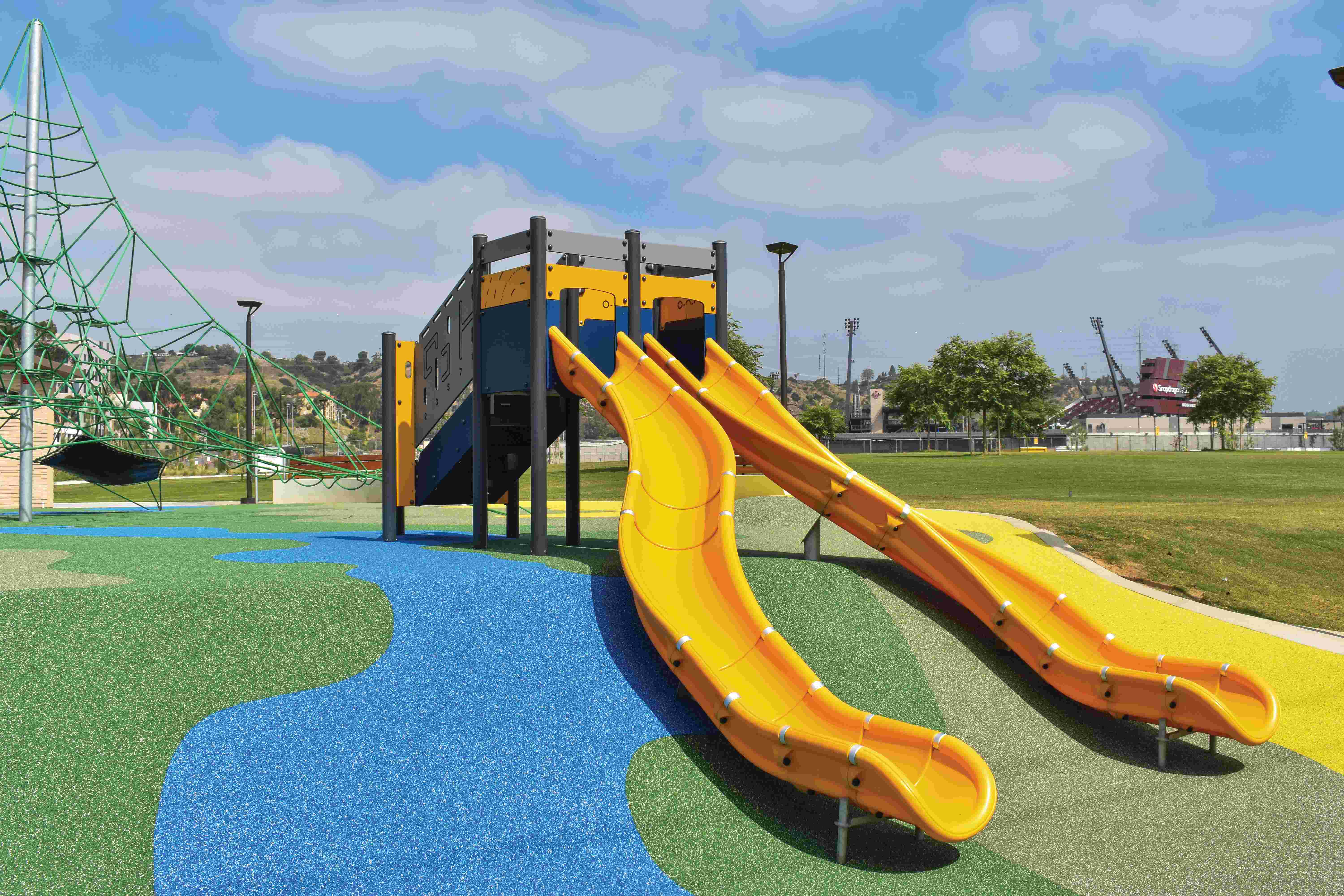 PLAYGROUNDS
Designed for children 2 years old and up, the playground includes a rope climbing tree and play structures with slides and monkey bars. The playground is designed with two tiers — one for older children and one for younger — connected by a safe-play slope, offering different challenges for kids as they climb and explore.
MULTIUSE GRASS FIELDS
These grassy fields are suitable for recreation like soccer and rugby, lounging in the sun with a good book, picnicking with family and friends on a nice day or for those who want to engage in casual sports like Frisbee or touch football.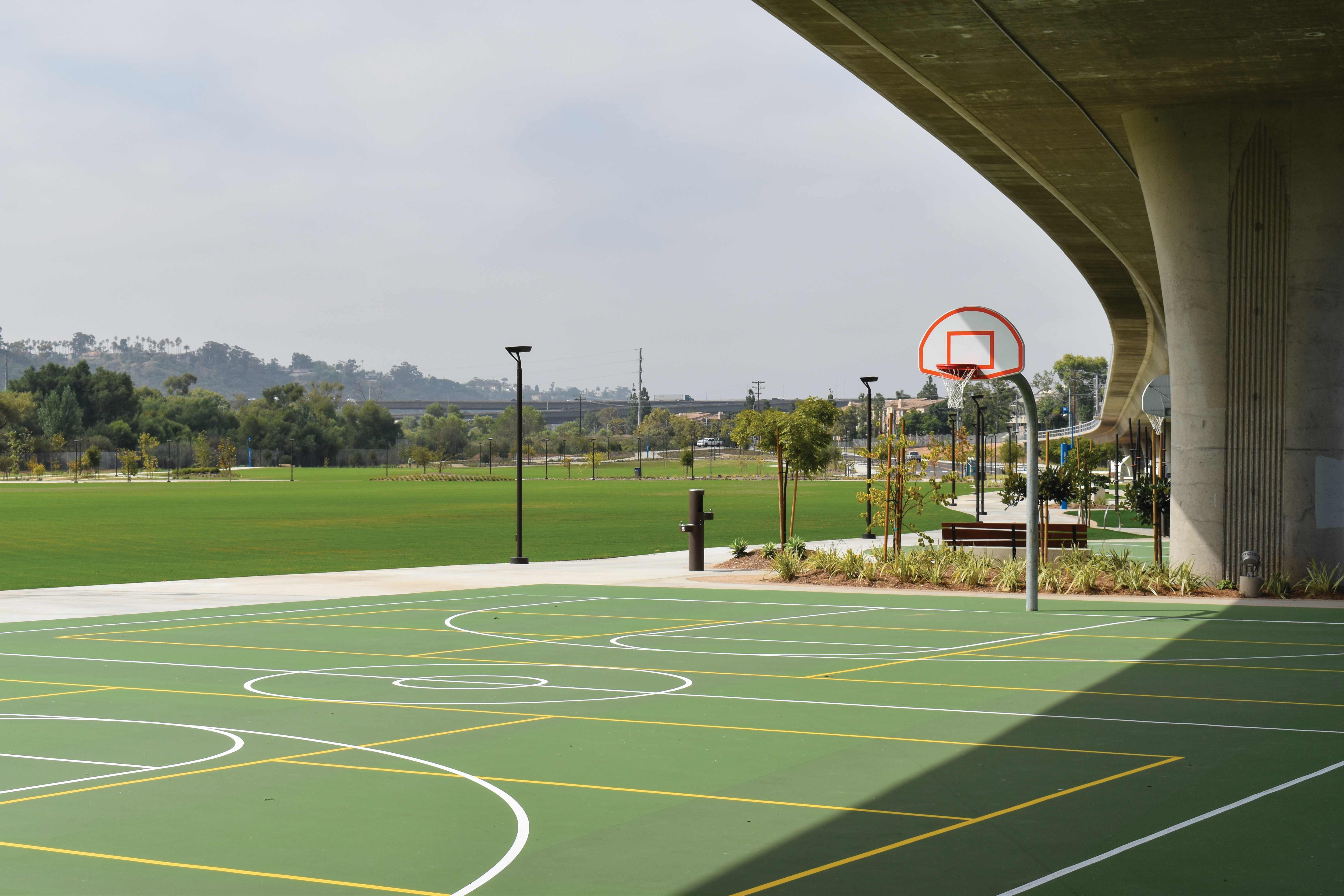 COURTS
The hardtop courts support four basketball hoops, including two half-courts and a full court, as well as pickleball. There is also fitness equipment, plus concrete table games, which can support teqball, also known as soccer pong. In teqball, players hit a soccer ball across a table with any part of the body except arms and hands. It's fun to play and watch!
HIKE AND BIKE LOOP
This 2-mile loop, which includes a section of the Ben and Nikki Clay San Diego River Trail, winds through the park and encircles the SDSU Mission Valley site. Artful mileage markers are located every quarter mile along the loop, depicting plants vital to the native Kumeyaay people. Interpretive signs inform park visitors of the origins and rich history of the area.