Ask a Researcher: Lilith Astete Vasquez
The SDSU environmental engineering Ph.D. student designed a low-cost, low-maintenance, low-water toilet with help from some furry friends. We asked her about the endeavor.
By Sarah White
This story was published in the Fall 2023 Issue of SDSU Magazine.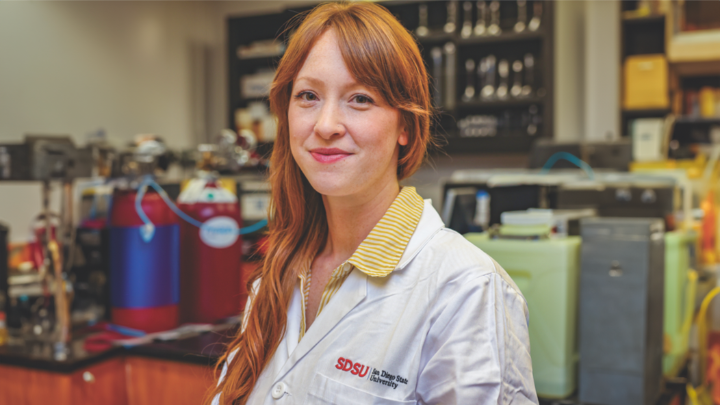 Q: Why did you start researching toilets?
A: Growing up visiting family in Peru, I witnessed many people without access to the same standard of sanitation that many take for granted. That and living in San Diego — which has one of the largest homeless populations — fueled my passion for studying how different sanitation practices and basic toilets, often without any sort of pipe network, could treat fecal waste.

What do people take for granted about toilets?
The primary thing is having a toilet because not everyone does. About 490 million people worldwide still practice open defecation because they don't have access to proper sanitation. Three other things most people don't realize are luxuries: 1) flushing with drinking water, 2) flushing toilet paper and 3) flushing at all.

What are the benefits of the toilet you designed?
My experimental toilet is really simple: just a container with a little bit of water, some bacteria that can survive without oxygen and a plunger mechanism. People still get to flush, but instead of adding water, each flush mixes up the contents. I used dog poop as a stand-in for human feces, and after monitoring the contents regularly, there was no smell and no clogging.

The addition of toilet paper didn't make a difference for the smell or decomposition, so this kind of toilet can be readily implemented in multiple countries with different bathroom behaviors. The design could be used for several months with minimal maintenance.

How was your experiment with these toilets unique?
Previous research has used cow manure, but recent studies have shown that dogs have the closest gut microbiome to humans, so how their poop decomposes is a better approximation. I have three dogs — Taco, Canyon and Peach — so I know exactly what they eat, and they often eat a more balanced diet than I do. Plus their poop was free and convenient! We also studied the toilets longer than anyone had before — nearly two years.

What's next for this sustainable toilet alternative?
I'm working on patenting a fecal-mixing device for septic systems used in rural areas and planning to explore ways to incorporate this design into systems to help the homeless population in San Diego.