Why Oaxaca
Embracing their Mexican heritage, SDSU students examine the deep culinary ties that bind the state of Oaxaca to Southern California.
By Susanne Clara Bard
This story was published in the Fall 2023 Issue of SDSU Magazine.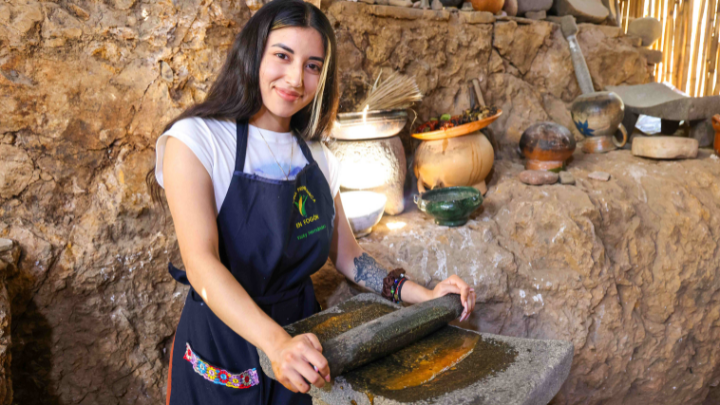 Every fall, residents of Ixpantepec Nieves — a small mountain town in the southern Mexican state of Oaxaca — make the 4,000-mile journey to Tijuana and back again several times per month. Multiple trips are required to supply Southern California's Mixtec population with ample ingredients to prepare the moles, tamales, tortillas and other special food offerings for El Día de los Muertos celebrations in early November.
"Chiles, dried beef, special candies, bread — everything we need for the Day of the Dead, it travels from Nieves to the border," says Angelina Trujillo, SDSU's Tuˇun Savi (Mixtec) instructor of more than 20 years.
The foods — and the ties that connect Oaxaca to California — run deep. Hundreds of thousands of Indigenous Oaxacans, many of Mixtec heritage, reside in the state. In the late 1980s, a large number of migrant Oaxacans became U.S. citizens after the passage of legislation granting them the opportunity to do so. As a result, people from communities like Ixpantepec Nieves established binational communities, living and working in the U.S., but returning to Oaxaca to care for their milpas — small plots of land on which they grow their own crops. This resulted in the preservation of many traditional practices, but also the integration of farming techniques picked up in the U.S. — and a taste for new foods, according to Ramona Pérez, SDSU professor of anthropology and director of the Center for Latin American Studies. "The labor relationship between Oaxaca and California forms a kind of cultural mixing," she says.
Pérez has been running ethnographic field schools for SDSU students in Oaxaca since 2002 and directs the Oaxaca Center for Mesoamerican Studies — a hub for research, teaching and collaborative community service, reflecting SDSU's commitment as a Hispanic-Serving Institution.
An interdisciplinary team of researchers at the university has received more than $6 million in grant funding from the U.S. Department of Agriculture to train students for careers in agriculture and food science to solve pressing sustainability and food security issues, especially as the planet warms up.
Through the program, SDSU students traveled to Oaxaca this summer to examine how its traditional food culture is shifting — from the field to the plate. "Our heritage students who have family relationships in Mexico have the opportunity to be a part of communities their parents may not be able to return to — it comes alive for them," Pérez says. "They become a new set of social scientists and teachers who have this intimate knowledge about what we mean when we talk about Oaxacalifornia."
One of these students is Lucia Canul. She is pursuing her Ph.D. through SDSU and UCSD's joint doctoral program in global public health. Her grandparents moved to the U.S. from Mexico 60 years ago. "While I'm in Oaxaca and I'm working alongside the Mixtec communities or the Zapotec communities, I feel a deep connection to them because of my Indigenous heritage," she says. "I feel this deep responsibility to give back to the community."
A registered dietitian, Canul has worked with many patients from southern Mexico who often face health disparities in the U.S. Focusing her research on nutrition in Oaxacan communities in California was a natural extension of that experience.
The nutritional benefits of southern Mexico's cuisine have often been overlooked by health care providers in the U.S. But Canul believes that those who are informed about the variety of foods that are actually consumed will be better prepared to help their patients. "We thought it was very important to go back to places like Oaxaca to have a better understanding of what their diet looks like," Canul says.
As a medical translator for Southern California's Mixtec community, Trujillo, who was born in Ixpantepec Nieves and divides her time between the town of 600 and San Diego, often hears U.S. providers recommending that their patients eat more vegetables. But, she says, they don't have a word for vegetables. So the advice misses the wide variety of healthful staples eaten by Indigenous communities for which there are words, including pumpkins, corn, beans and wild greens.
"Our patients deserve to have their culture be part of their care because that is going to give lasting results, improvements in health disparities and really promote health outcomes," Canul says.
THE EMERGENCE OF FARMING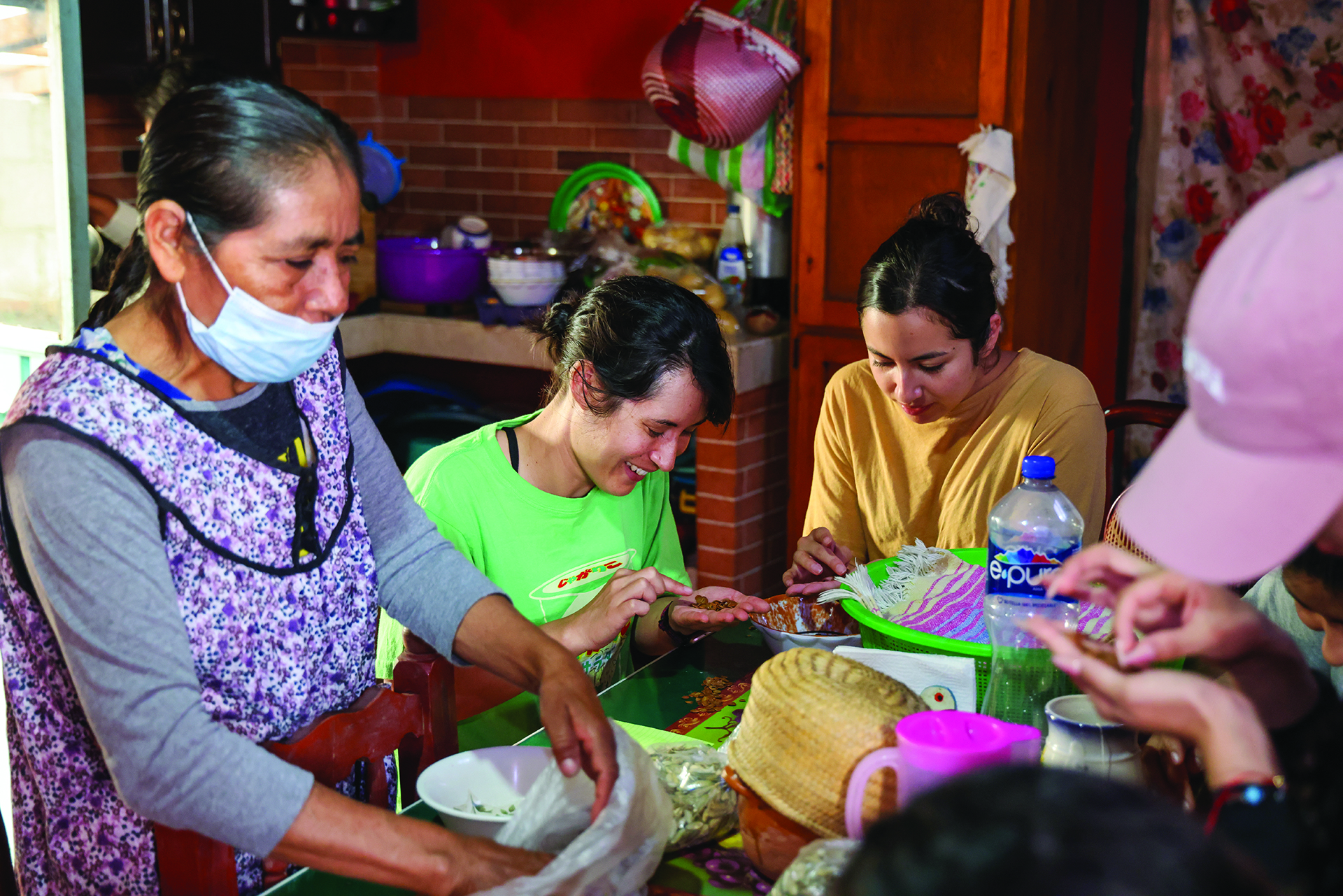 To understand the roots of Oaxacan food and agriculture, Canul and her fellow interns visited the site of one of Mesoamerica's earliest cities, Monte Albán. Farming arose in the valley below, once sustaining more than 17,000 people.
"The Valley of Oaxaca itself has been an important agricultural resource for all of Mexico for thousands of years," Pérez says. "The evolution of corn as a basic food group is centered up here."
Like in many parts of California, growing conditions are favorable in Monte Albán most of the year. It had sophisticated irrigation canals and agricultural terraces, allowing crops to thrive in the mountainous landscape. It was here that the three sisters — corn, beans and squash — joined forces to become the central staples of the Mesoamerican diet, providing a nutritious balance of fiber-rich carbohydrates and protein. "Taking the students up to Monte Albán, they not only begin to understand the impact of what it means for agriculture to have evolved in this place, but they also get to see how that agricultural stability grows into a city-state," Pérez says.
PRE-HISPANIC COOKING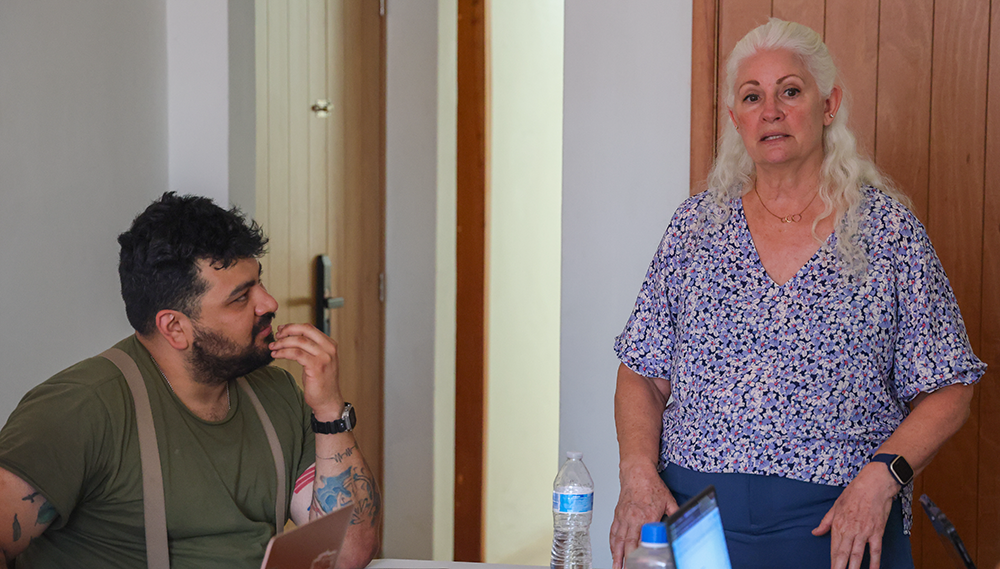 Six miles east of Monte Albán in Oaxaca's capital, the students met Victoria Hernandez, who runs a pre-Hispanic cooking school. Together, they shopped for fresh produce and herbs at one of Mesoamerica's largest markets.
With produce in hand, the students headed for Hernandez's semi-outdoor kitchen with stone walls and a dirt floor. There, she taught them how to cook with pre-contact ingredients using traditional tools such as metates and molcajetes for grinding, clay pots to cook in and an open flame.
On the menu were mole coloradito (a sauce of tomatoes, chiles, nuts, seeds, spices and chocolate), sopa de guias (squash vines soup), tortillas prepared using an ancient Mesoamerican process and quesadillas with squash blossoms.
VISITING IXPANTEPEC NIEVES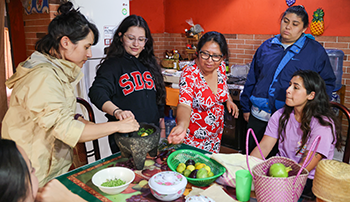 The interns' culinary education continued in Ixpantepec Nieves, a seven-hour trip from the capital via winding mountain roads. Every morning they would gather at Trujillo's house, welcomed by the smell of coffee on the stove and pan dulce (sweet bread) on the table.
"In those moments when we sat at the table and chatted, I started to really understand the importance of meal sharing and time together in Oaxaca," Canul says.
She and her peers interviewed community members about the foods they eat, and Trujillo arranged for local cocineras (cooks) to teach them how to prepare a variety of recipes, including their own meals. "I couldn't help but start to think about the nutritional properties within these foods," Canul says. "And I was able to begin to see the connection between the foods there and the foods that we see in the United States."
The students also learned about traditional growing methods from Mixtec farmers. In the past, people in Ixpantepec Nieves grew all of their own food, but today, Trujillo estimates that only about 20% of its residents still tend to their milpas. In addition, many farmers have shifted away from corn fields to more lucrative export crops. The trade-off is less food security back home: The nearest market is located in a larger town 45 minutes away. "We really got a deeper understanding of how integral these crops are to the people and to their culture," Canul says.
Pérez feels strongly that the agricultural and culinary knowledge that people from Ixpantepec Nieves have shared should be repaid. The community has requested a cookbook of their traditional recipes. She says they are capturing those recipes, and the book will be written in Mixtec, Spanish and English to reach multiple generations, especially younger people in Oaxaca and California.
On the last day of their trip, the interns returned to Oaxaca with one more task to complete: re-creating one of the recipes they'd learned to make during the trip in the traditional kitchen built into the rooftop of the Oaxaca Center for Mesoamerican Studies. "I wanted them to think about how they would replicate the recipes back home in California," Pérez says.
Instead of using a molcajete and a metate, they used a blender and a food processor and ingredients that could be easily obtained in San Diego. "They came back and produced the most amazing meal."
Pérez hears from the students that they didn't really understand who they were until they went on this trip. "One of the most powerful experiences for me is watching a student really embrace their Mesoamerican heritage," she says.