'I Was Just Trying to Survive'
Vanessa Lytle had seemingly lost everything by the time she was 21 years old. But with strength and resolve, the SDSU senior is just months away from earning a degree — and fulfilling her late mother's wishes.
By Wayne Drehs
This story was published in the Fall 2023 Issue of SDSU Magazine.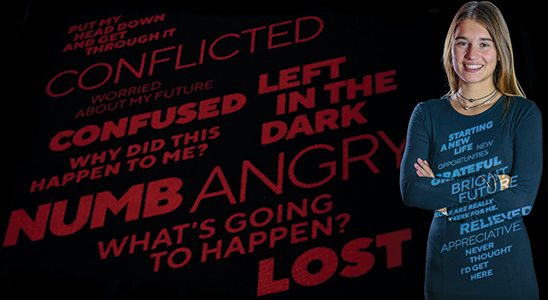 Standing at the curb in front of her childhood home in Santa Barbara, California, that fall night in 2020, Vanessa Lytle had one thought: Now what? To her right sat the mattress from her bedroom. Next to that sat her old clothes hamper, a metal bookshelf and a black office chair. And surrounding it all, piles of garbage bags. One with a brightly painted school art project poking through. So many others stuffed with her mom's clothes and destined for Goodwill.
Vanessa, only 19 years old at the time, pulled out her cell phone and snapped a picture. The remnants of a fractured family. Two years earlier, her family had endured a bitter divorce, with her dad withdrawing funds from a joint bank account, Vanessa says. And the money — along with her dad — never returned. Shortly after, Vanessa's mother, Claire Le Guern, was diagnosed with breast cancer. She kept the news from Vanessa and her youngest daughter, Alizee, to not worry them. But the disease quickly spread. Within a year, Claire could barely walk. She was terminal. She decided to spend her final days in France, where she grew up and her family could care for her. Alizee, then 15, would also go.
Left behind in California, Vanessa was tasked with emptying out the family's triplex before their lease expired in two months. Room by room, drawer by drawer, she sold what she could and donated or threw away the rest. Dishes, clothes, kitchen utensils, furniture, her mom's car. Anything to help pay the bills. The landlord allowed her to stay a third month, keeping the family's security deposit. But then what? Most of her friends were in college. She thought about crashing on couches or sleeping in the back of her truck. Maybe she'd move in with one of her mom's friends. Or head to France to join her mom and sister. She had earned her associate's degree from Santa Barbara City College but assumed her college days were finished.
"School just wasn't something I was thinking about at that point," Vanessa says. "I was just trying to survive."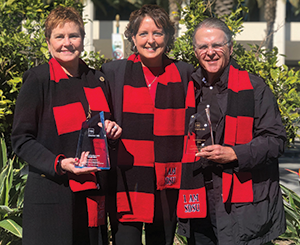 THREE YEARS EARLIER, at 4:01 p.m. on the Friday before Labor Day in 2017, Tammy Blackburn received the phone call that changed her life. Concerning results on a routine mammogram had prompted a biopsy of her breast tissue. And that pathology report had returned positive for cancer. There would be more tests and more biopsies for the former SDSU basketball star and later the discovery that the cancer had spread to her lymph nodes. That led to months of chemotherapy, major surgery and 35 consecutive radiation treatments.
"At that point, I knew life as I had known it was over," says Blackburn, now SDSU's senior director of marketing and communications for University Relations and Development. "I knew I was going to have to find a new way to live."
This meant discovering a new motivation to help her cope with the pain and get out of bed each morning. Blackburn was in touch with Mark Mays, a friend and alumnus who had recently lost his wife, Karen Mays, to breast cancer. They knew they wanted to help others who were experiencing pain and anguish caused by cancer. At the infusion center where Blackburn underwent chemotherapy treatment, she saw the ruthless, unforgiving way cancer ripped apart families and brought chaos to the lives of loved ones. Blackburn, a double SDSU alumna ('94, '01) and longtime donor to her alma mater, began asking about the impact of cancer on the university community. The answers were overwhelming, prompting an idea that she shared with Mays. Create a legacy she hoped would far outlast her: a scholarship for students facing financial hardships from cancer. People like Vanessa Lytle.
"Cancer is a disease that just takes and takes and takes," Blackburn says. "It's relentless. The idea was to be able to help someone in a real crisis, to make sure that cancer wouldn't take away their college degree. It wouldn't take away their dreams."
In September 2018, in a small banquet room in La Jolla, California, Blackburn, then Interim President Sally Roush, SDSU donor and mentor to Blackburn, Patti Roscoe ('14), and 30 others gathered to officially launch the Wallace Shatsky Blackburn Courage Through Cancer Fund. Blackburn surprised her team of doctors, surgeon Anne Wallace and oncologist Rebecca A. Shatsky, by naming the fund after them.
Wearing a bright pink dress, Blackburn beamed while holding an oversize check announcing the $45,000 in donations that would serve as the scholarship fund's foundation. Additionally, a fundraising goal of $50,000 was set to fully endow the scholarship between SDSU's Day of Giving event on Sept. 25 and the end of Breast Cancer Awareness month in October. The goal was reached in less than a day.
"This was the vision," Blackburn says. "I just wasn't sure it would be possible."
BY MARCH OF 2021, almost three years after that evening in La Jolla, the scholarship had helped nearly 20 students affected by cancer. At that same time, halfway around the world in France, Vanessa Lytle stood at her mother's hospital bedside, searching for the words to say goodbye for the last time.
She had been in France for three months, living with her grandmother and sister, but needed to go home. The endless days of sitting in her grandmother's basement in the middle of the COVID-19 pandemic, wallowing and wondering Why me? were sending her into an emotional tailspin.
Vanessa looked down at her mom, who by then had lost her vision. Tears fell down both of their faces. Claire tried to speak, her voice trailing off at the end of each sentence. She told her daughter she loved her. She was proud of her. And she understood why she needed to head back to California. She was almost 21 now. It was time to build a life of her own.
"It was hard," Vanessa says. "So hard."
When Vanessa returned to California, she moved in with Gail and Gary Kvistad, her mom's close friends. That had been the plan all along. Vanessa just didn't know it. The Kvistads promised Claire that Vanessa would finish college. But Vanessa wanted to surf, sleep and maybe someday figure out the rest. She wanted to escape.
"She was in a victim state," Gail Kvistad says. "'Why me? Everything always happens to me.' She wanted to be a slacker. We told her that wasn't reasonable. Sleeping on people's couches? In the back of your truck? That's ridiculous. She was in the wrong family for that. She needed to think about her future."
Kvistad reminded Vanessa that her mother studied law in Paris and held two master's degrees in international and business law. She also did postgraduate studies obtaining the highest diplôme d'études supérieures spécialisées (DESS or diploma of higher specialized studies) awarded at the time. And Vanessa recalled what her mom always told her: "Get your college degree and you can live on a beach and sell coconuts for all I care. But you have to get your degree."
On July 11, 2021, working on a dive boat off the coast of Santa Barbara with a slice of pizza in her hand, she looked down at her phone and saw six missed calls from her grandmother. She knew. Her mom had taken her final breath. Vanessa headed back to France for the funeral, then returned to the Kvistads' home. Lured by SDSU's business program, she decided to apply to the university and began putting away $750 a month to help pay for potential college expenses. Then she waited.
"The more I thought about it, the more I realized it was something I needed to do for my mom," Vanessa says. "And for myself."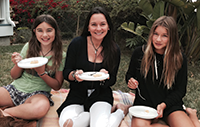 EIGHT MONTHS AFTER her mom died, Vanessa opened the email she had been waiting for. SDSU had accepted her to its business program. Next came the challenge of paying for school. Vanessa had saved as much as she could and had a small inheritance from her mom, but it wouldn't cover two years of room, board, tuition, books and other expenses. The Kvistads pointed her toward the university's online scholarship portal. "We told her to apply for everything," Kvistad says.
Vanessa filled out an application and "checked a bunch of boxes," she says, including one that asked if her family had been affected by cancer. "I remember thinking, That's pretty specific," she says. She added a short essay about all she had experienced. Her application was escalated to the university's Economic Crisis Response Team. That's when Tammy Blackburn received a call about Vanessa's story.
"It was clear Vanessa was experiencing personal pain and anguish," Blackburn says. "She was someone in a crisis who needed help."
A little more than a month after the fall semester began, another email informed Vanessa she had been awarded the Wallace Shatsky Blackburn Courage Through Cancer Scholarship. Reading further, she realized the amount provided would cover her tuition. She began to cry.
"Beyond the financial help, it showed me there is a team of people in my corner who not only want to see me succeed but want to help me get there as well," Vanessa says.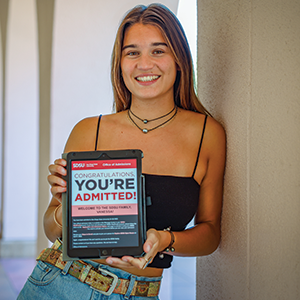 IN ITS FIVE YEARS, the Wallace Shatsky Blackburn Courage Through Cancer Fund has helped close to 35 students continue their college education in the face of cancer-driven adversity. A kinesiology student whose single mom had stage 4 cancer was awarded tuition, books and a meal plan for three years. A senior in SDSU's honors college, a criminal justice major who was diagnosed with cancer, was provided tuition and food support. A junior from the College of Professional Studies and Fine Arts, who was diagnosed with cancer and undergoing intense treatment, was provided tuition and housing support.
It is but one in a long line of non-athletic, non-academic scholarships that help students who have been impacted by life-changing challenges like addiction and domestic violence or who are involved in certain activities or hail from a specific geographic area.
"Student support is a big component of how and why students are able to graduate in four years or around four years," says Adrienne Vargas, SDSU's vice president for University Relations and Development. "The scholarship is the game changer. It's what gets them across the finish line."
In 2022, the university dispersed more than $6 million through 2,254 scholarships, funded almost exclusively through donors. Starting a named scholarship requires a minimum donation of $5,000 per year for a minimum of five years. As Blackburn can attest, donors quickly discover the impact their generosity has not only on the recipients but also on the donors themselves. She points to the generosity of so many donors and the ability to help people like Vanessa that keeps her going.
Though her initial round of treatment ended in June of 2018, Blackburn woke up with piercing back pain on Thanksgiving of that year. Another round of tests revealed the cancer had spread to her bones. Now it was stage 4. Like the doctors told Vanessa's mom, it was incurable, and she would spend the rest of her life in treatment.
"Hope is the only tasteful medicine in cancer care. It's the only pill you want to swallow or IV you're happy to take," Blackburn says. "And this fills you with that hope. We can't change what happened to Vanessa. We can't bring her mom back. But we can give her this. We can help get her life back on track. And if not a place like San Diego State, then where?"
In May, Vanessa will walk across the stage at Viejas Arena and shake the hands of university President Adela de la Torre and Dan Moshavi, dean of the Fowler College of Business. Blackburn plans to be there. So, too, do the Kvistads. Vanessa has already imagined the moment. She plans to hold her diploma up to the sky, thanking her mom and thinking how proud she must be. "I know I'm going to cry," she says.
From there, the opportunities for the next chapter in her life are limitless. She has thought about graduate school or a job in real estate, finance or perhaps starting her own business. Maybe even in Australia. But as much as that piece of paper will help change the course of her life, her two years at SDSU have rewarded her with so much more than a degree.
"This place gave me a home," she says. "I've made new friends. I've built a new life for myself. There's nothing I feel I can do that equates to what Tammy and so many people have done for me and my life. I'm so incredibly grateful. I just want to make them proud."
Paying It Forward
In December 2021, alumnus Mark Mays ('69) announced a $500,000 matching gift to support the Courage Through Cancer Fund. Mays will double donations to the Courage Through Cancer Endowment or endowments established in support of students impacted by cancer. For more information, contact Mary Darling: [email protected].