Historic Walking Tours of SDSU
Interested in learning more about your alma mater? These 12 new self-guided tours are for you. Plus, SDSU just added a name to its War Memorial.
This story was published in the Fall 2023 Issue of SDSU Magazine.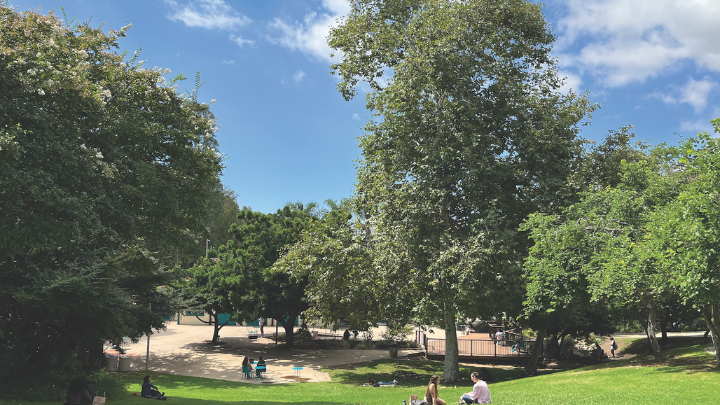 History often hides in plain sight. Scripps Park in the heart of San Diego State University is the perfect example.
As one of the most popular spots on campus, the park features plenty of scenery, including ponds with turtles and koi fish, and Scripps Cottage, the first building completed on Montezuma Mesa. But nestled among the beauty is an especially important yet often overlooked living military memorial.
Fifty years ago, San Diego State honored alumnus Lt. Col. Charles Scharf ('54, political science) and all MIAs and POWs with a plaque and a tree, a sycamore known as "The Freedom Tree." The 32-year-old was shot down over Hanoi, Vietnam, in 1965 and was listed as MIA. But there's much more to the story…
In 2006, Scharf's remains — found in excavations at the crash site — were identified through a match with DNA from stamps on letters he had sent to his wife. As a result, Scharf and his mementos were buried later that year with full military honors at Arlington National Cemetery. He was also posthumously promoted to colonel and awarded the Distinguished Flying Cross and Purple Heart.
The Freedom Tree is a stop on one of the 12 all-new historic walking tours at SDSU. Each takes between 45 minutes to two hours. People can follow along on the SDSU Alumni app or with the book, Historic Walking Tours of SDSU, which is available through online booksellers or Aztec Shops.
There are surprises in each tour, and the themes, including pioneering women, lost student murals and athletics, aim to appeal to people of all interests. While the Freedom Tree highlights the military tour, many more treasures await Aztec walkers, including the elusive Banana Quad, the original Boiler Plant and even the artistic fate of the sycamore tree that once grew in the center of the original Aztec Student Center.
—Seth Mallios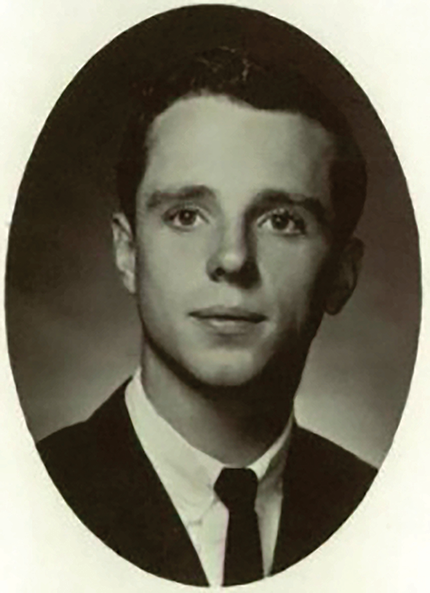 Honoring SDSU's Veterans
Every year during Homecoming Week in November, SDSU holds a commemoration ceremony at its War Memorial. The monolith, which is on the west side of the Conrad Prebys Aztec Student Union, honors alumni who have given their lives in World War II, Vietnam, Korea, Iraq and Afghanistan. It was dedicated to the university in 1996.
This year, SDSU added a new honoree to the memorial at the Nov. 3 ceremony: 1st Lt. Robert Conn Chaudoin. According to the San Marino Tribune, Chaudoin's hometown newspaper, he enlisted in the Army as a junior at San Diego State. A platoon leader for Company C, First Battalion, 51st Infantry 101st, the 24-year-old was killed in action on March 27, 1971, in Vietnam. Twenty years later, his nephew Jeff Thielacker graduated from SDSU.
While 239 names have been inscribed over time, Chaudoin's is the first to be added since 2016. SDSU librarian emeritus Robert Fikes discovered the distinguished veteran and submitted his name to the SDSU War Memorial Committee for consideration. "It's essential that we continue to search for these lost heroes so we can properly and respectfully honor their ultimate sacrifice and remind ourselves that they played a role in preserving the freedoms we all enjoy today," Fikes says.
A video of November's ceremony is available at sdsualumni.org/WarMemorial.
—Taylor Harris