Introducing Aztec Network
SDSU Alumni is always looking for ways to connect the SDSU community. This new digital hub brings SDSU networking to a whole new level.
By Taylor Harris
This story was published in the Fall 2023 Issue of SDSU Magazine.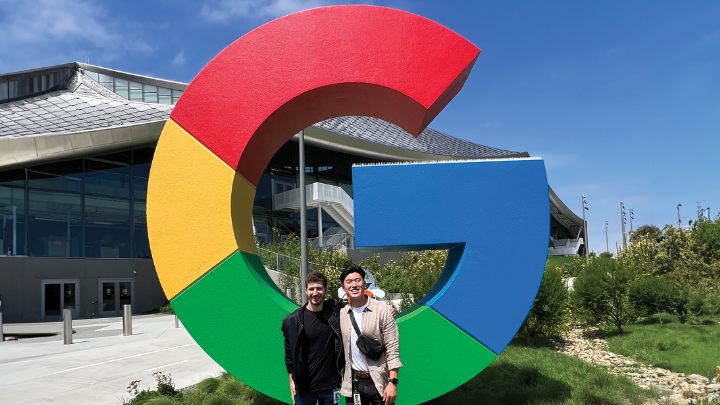 When students become a part of the SDSU community, they aren't just an Aztec during their time spent on campus; they are an Aztec for life, a part of a community that is actively cultivating a culture of giving back.
SDSU's new digital networking platform, Aztec Network, embodies that culture. It's designed to help connect the community, present opportunities for student and alumni mentorship and allow Aztecs to expand their professional networks and even find jobs — and is open to staff, faculty, alumni, students and donors.
Aztec Network helps users find classmates, locate local mentors, share events and much more. They can interact with individuals by liking or commenting on posts, messaging them and sending invitations to meet up. An important feature of Aztec Network is alumni-to-alumni mentorship.
Take SDSU alumnus and Google product operations manager Anson Han ('17, business administration) for example. Han was encouraged to give back to fellow Aztecs after his own mentor, Heather Jablow ('06, MBA marketing), helped shape his early career years.
In 2021, Han started mentoring Ari Weizman ('22, business administration), who had just started his internship at Google. And while Han was technically the one who was supposed to do the teaching and guiding, he says his relationship with Weizman greatly impacted who he is today.
"Ari has really helped me grow in how I mentor others, challenged my point of view at times and allowed me to improve as a communicator," Han says.
Weizman was recently hired as a growth associate for Google at its Mountain View, California, headquarters, and Han says that seeing achievements like these is what being a mentor is all about.
The ripple effect of mentorship continues, as now Weizman, inspired by Han, plans to be a mentor to share his experiences with fellow Aztecs.
"By giving your time, experience and dedication to others," Han says, "you're not only helping the future of SDSU but you're growing yourself as well."
With hundreds of users on the Aztec Network already, take the opportunity to join now